Automotive News Article -- October 11, 2010

Hyman Bros. rebuilds brand with used cars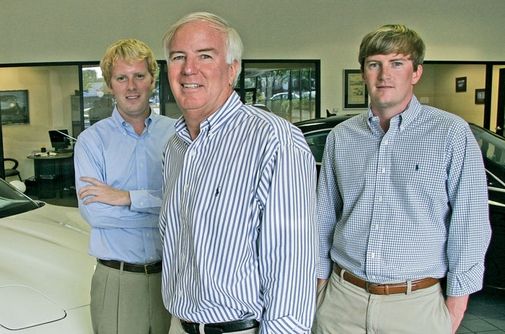 Huddy Hyman, flanked by sons Thomas, left and Haywood: "We're having fun. I feel like I'm 16 again."

Photo credit: JAY PAUL
Automotive News -- October 11, 2010
Huddy Hyman, along with most other Saturn dealers, was devastated when General Motors Co. pulled the plug on his business last year.
But Hyman's story has an upside.
A year after the brand's collapse, as he prepares to take down the last sign on what were once three thriving Saturn stores in the Richmond, Va., area, Hyman says he is having a blast rebuilding his original brand: the Hyman family.
"It was an emotional thing to have them kill Saturn like that," says Hyman, a 58-year-old second-generation dealer. "But I feel pretty good about it now. We're having fun. I feel like I'm 16 again."
At 16, Hyman and his brother were scouring the garages and for-sale listings of Richmond after school. They bought used vehicles, worked on them and resold them at a profit. They operated independently of their father and uncle's Pontiac dealership but traded on the family's reputation in town for being honest and reliable.
New brothers
Now Hyman has gone back to the family's original 1940s business name -- Hyman Bros. -- and brought another set of brothers into the shop with him: his sons, Haywood, 26, and Thomas, 24.
Together, the father and sons are building a national used-car sales company, run separately from Hyman's Land Rover new-vehicle franchise.
The business is relying heavily on Internet communications and sales transactions and is focusing on late-model, low-mileage vehicles above $20,000. The father is teaching the sons the ropes of hands-on retailing, customer interaction and fixed operations. The sons are teaching the father a few things about Internet commerce, 21st century response time and the buying preferences of young consumers.
The elder Hyman describes his role as "coordinator." He has moved his office down to the garage where vehicles are unloaded from trucks to begin reconditioning. He inspects the cars and the work being done to them.
"I just want everything to be done properly," he says, "just to keep everything moving in the right direction."
So far, so good. Hyman Bros. has been selling about 140 cars a month at an average price of $23,000, he says. A fourth of the sales are coming from out-of-state buyers the venture reaches online.
"We've gone to all Internet advertising," Hyman says. "That's where everything is going. We're doing things differently but still operating with the philosophy we've always had."
Philosophy of fairness
That philosophy of fairness goes back a long time.
Hyman Bros. was started by two servicemen coming home from Europe after World War II. The young men had been sending their Army pay home to their mother diligently every month. Their return to the States found them rich in 1945 currency, with $2,500 -- enough to open a used-car business the next year.
A Pontiac franchise came along in 1955. In 1980, while Huddy was still in his 20s, the Hymans added a Buick franchise. Porsche and Audi franchises came along after that. Others followed through the 1990s.
In the late 1980s, Hyman met the franchise development team from Saturn. Saturn was targeting GM dealers and others who boasted the industry's highest customer satisfaction scores. The Hymans qualified. And Huddy Hyman was looking for a new concept in auto retailing that broke with the industry's old habits.
"I never liked negotiating for car prices," Hyman says 20 years later, referring to Saturn's then-controversial philosophy of no-haggle selling. "I don't think customers like negotiating. They just want a fair, honest price.
"I don't know how anybody runs a dealership any other way. Your communications break down. You forget what you've told your employees. Your people forget what they've told customers. Customers get angry. You have to go one-price. Saturn was right about that."
Hyman's new used-car trade still embraces the approach.
Huddy Hyman
Before his time: Father, uncle opened used-car store in Richmond, Va.
Teenager: Bought and sold used cars with his brother
Young man: Worked at family's Pontiac store
In his 30s: Added franchises, became a Saturn advocate
Enthusiastic advocate
In the early 1990s, as Saturn took off nationally, Hyman became an enthusiastic advocate of its relaxed and open shopper-friendly business model. He extolled Saturn's virtues in a newspaper article, attracting the attention of executives at Daimler-Benz AG in Germany.
Daimler-Benz was quietly planning to introduce a global small-car brand called Smart. Hyman's comments on Saturn prompted the German automaker to track him down in Virginia and invite him to help them articulate the retail model for Smart.
Hyman agreed to fly over and help the Europeans as a courtesy, sharing what he believed and what he said Saturn represented. In return, as the brand came to market a few years later, Smart awarded Hyman the plum franchise for all of suburban Paris.
In 1998 he opened a ring of Smart stores around Paris and hired a local staff. In his best high school French, he trained them in his approach to gentle, no-hassle customer relations. He flew back and forth from Virginia regularly to oversee the operations but sold the venture in 1999.
In the years that followed, Hyman sold off most of his franchises to focus on the Saturn brand. It proved to be a miscalculation.
Throughout the past decade, as U.S. buyers shifted to big SUVs and crossovers, GM proved incapable of repositioning small-car Saturn in the market. As a new era of fuel consciousness arose in 2008 and 2009, Saturn largely had abandoned its roots as a small-car alternative to imports.
By the end of the decade, even as the brand rolled out sharp new models, Saturn had been designated as a problem brand for financially struggling GM.
'Life goes on'
Through the summer of 2009, Hyman and hundreds of other Saturn dealers waited nervously as billionaire megadealer Roger Penske considered whether to buy Saturn from GM. That plan collapsed in September 2009. Dealers were given until November 2010 to close their stores.
"Life goes on," Hyman says, as Haywood hands him a sales contract to sign.
A consumer in Wichita, Kan., has purchased a Hyman vehicle, unseen and undriven, based on the dealership's word that there is no sign of cigarette smoke in the car. And Hyman has paid $26,000 to another customer in Texas for a Lincoln Navigator, sight unseen.
"A lot of this comes down to communicating with people on the phone," he says. "That's where you have to be most attentive. I don't want any customer to be surprised or disappointed.
"In talking to people on the phone, you can usually get a good picture of what you need to know. And on our end, we have to be completely honest with people and provide very thorough information. Our reputation is at stake."
Haywood recalls the conversation with his father that started the third-generation business. He and his brother had been doing exactly what Huddy and his own brother had done as young men in the 1960s -- buying and selling independently. But when the Saturn brand imploded, Huddy approached his sons with a question.
"I had been going to auctions and buying and selling trade-ins," Haywood Hyman recalls. "My dad said: 'The Saturn stores are gone. We need to put all that behind us. We need to make some decisions about what we're going to do with the real estate.'
"He asked me, 'What do you want to accomplish? Do you want to open a retail store?'"
'We didn't realize'
Haywood and Thomas assumed their father was proposing a store that would sell used vehicles retailing for $5,000 to $10,000 and an inventory of 20 or so cars on the lot. That was hardly the father's vision.
"We didn't realize how powerful this could be," Haywood adds. "We learned that there's a market for $30,000 and $50,000 cars when you do things right. And right now, we've got about 500 vehicles on the lot. We've realized that there is a lot of potential."
Huddy says rebuilding Hyman Bros. with his sons is rewarding, but they remain open to opportunities for new-vehicle franchises. The high prices and scarcity in the used-vehicle market that dealers have been coping with this summer are challenging, he admits, but merely temporary.
"I've seen the market change like this before, and it will return to where it used to be," he says.
"For us, the most important thing in all this now is communicating clearly with our customers and doing things right," Huddy says. "We're keeping a close eye on everything. I guess I've always been a hands-on dealer, but never to the degree I am now -- which is fun."
Hyman Bros
Key players: Huddy Hyman, 58, and sons Haywood, 26, and Thomas, 24
Where: Richmond, Va.
What: Late-model, low-mileage used vehicles
How much: Priced above $20,000
How sold: Internet sales, national customer base
Volume: About 140 vehicles a month
Other: New-vehicle franchises still an option
Automotive News, Letter to the Editor, October 25, 2010
A 'look-'em-in-the- eye kind of guy'
DICK STRAUSS, Richmond, Va.October 25, 2010
The writer is a retired Ford dealer. He was president of the National Automobile Dealers Association in 1992.

To the Editor:

I enjoyed the article on Huddy Hyman.

His dad and his uncle were two of the most honorable and respected dealers I have ever known.

I got to know Huddy in the late 1980s when I called on him for various community and industry causes. He was just like his dad and uncle: a straightforward, look-'em-in-the-eye kind of guy.

I called on him after he was awarded the Saturn franchise, and he showed me a 20-minute video about the Saturn plant in Spring Hill, Tenn. He got very emotional about the film, which he had probably seen 100 times. He was so excited about the opportunity to plow new ground in this competitive and challenging industry.

Huddy Hyman is a chip off the old block for sure. I wish his two boys well.

Automotive News, Letter to the Editor, October 25, 2010
Hyman story is an inspiration
TED L. SMITH, President , Florida Automobile Dealers Association, Tallahassee, Fla.October 25, 2010
To the Editor:

The story about Huddy Hyman is one for the ages ("Saturn collapse sends veteran back to his roots," Oct. 11). It represents not only the adventuresome and dynamic nature of the family-owned car store but also the dynamics of a family that has been serving car buyers in Virginia for decades because of personal integrity and an honest approach with customers. That family personifies the characteristics that lead to success.

I grew up in Richmond, Va., as a lucky friend of the Hyman family. One of the original brothers, Ed Hyman, hung the moon as far as I was concerned. In 1967-70, most dads would not speak to a young high school boy when he came over to visit and hang out. He made everyone feel important, even a high school kid.

That -- and the honesty that his business was known for -- made a lasting impression on me and gave me a high regard for car dealers, especially at family-owned stores.

Years later, I was offered the opportunity to run the Florida Automobile Dealers Association. It was my love for the Hyman story, the legacy of that special Dad, and the wonderful reputation of the Hyman brothers that led me to enter this wonderful business.

After almost 10 years in Florida representing the state's franchised new-car dealers, I am thankful the story lives on with great men like Huddy Hyman. Some dealers touch lives beyond their customers every day, and I am humbled and honored to work for them.